ECOM Harness Reference Schematics
The standard ECOM device (E2046002) that sells for $179 comes with the following cable.  It has the 8-pin connector from the ECOM and goes into a round 8-pin Ford connector that is illustrated on the ECOM page. 
NOTE: The "standard ECOM" that sells for $179 will NOT work with CANCapture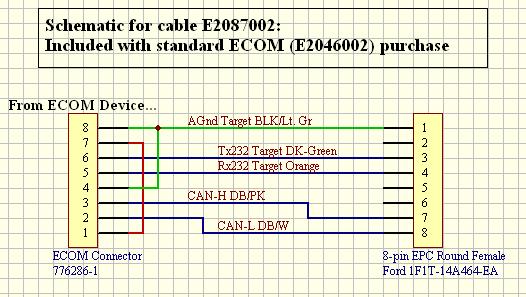 ---
The CANCapture kit (E2372000) that sells for $1295 comes with an "Unlocked ECOM device" and the following harness cable.  This cable has the connector for the ECOM and goes to 3 bare-stripped wires: CAN-H, CAN-L, and GND.  Along with this cable we also include 2 Deutsch connectors (and their respective pins) that are specified by the J1939 protocol - the included connectors are the 2-pin DTM06-2S and the 3-pin DT06-3S.
Since there is not an industry standard CAN connector, we offer this cable with stripped leads so that you can connect the appropriate connector for your system.